VitalSigns for IP | VIP |
OSA Monitoring
---
OSA Express (Open Systems Adapter) is IBM hardware for high-speed connections between mainframes and TCP/IP networks. OSA Express and OSA Direct Express are the current versions. VIP consolidates OSA performance data from all sources.
Click below to see full-size screen images.
---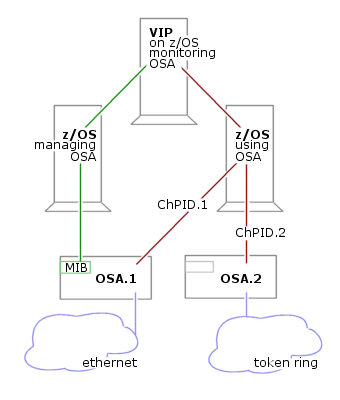 OSA devices connect to z/OS LPARS (logical partitions) through interfaces called ChPIDs (channel path IDs).
One z/OS box can be configured to host multiple LPARs. Multiple LPARS may reach a network through a single OSA box. Any one LPAR may reach multiple networks through multiple OSA boxes.
An OSA device has a manager, a mainframe system with access to configuration and performance data via the OSA's MIB (management information base).
OSA usage data also comes from the TCP/IP stacks connected to OSA devices, much like usage data for any other interface.
VIP consolidates data from all sources, providing complete details regarding OSA configuration, traffic volumes, and performance.
---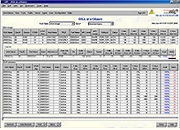 OSA Express at a Glance
OSA configuration, status, availability, utilization, and traffic volumes--in 3 tables:
Physical Channels: Traffic volumes and performance for each OSA channel, as reported by the OSA device and its mainframe manager.
LPAR Utilization: Traffic volumes sent over OSA channels by each mainframe LPAR.
OSA Usage: Traffic volumes over each OSA channel, as reported by TCP/IP stacks.
For details, right-click on a data-row.
---
OSA Details
Every available detail about an OSA device and OSA connections:
Availability.
Operational status.
Bytes in and out.
Processor utilization.
Hardware type, version.
Processor and PCI bus utilization.
---
OSA History
Every OSA detail over a recent time span:
Report spans days, weeks, months--depending on the amount of traffic and the file-space allocated.
Easily zero-in on specific time span, then scroll forward and back.
Print or graph selected fields.
---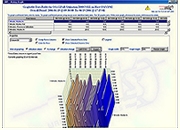 OSA History Graph
For any of an object's numeric fields, click and drag the mouse to select fields and times to graph.
Select from 17 shapes of graph--lines, pies, bars, etc.
Export raw data to comma-separated tables.
---