We enjoyed seeing all of you at SHARE® Sacramento. Thanks for stopping by the SDS Booth!
Thanks for visiting us at:
SHARE Sacramento
March 11-16, 2018
Sacramento, CA
Visit us at Booth #325 to learn about our impressive selection of product offerings and, of course, enter our drawings. SDS has several security products (ie. our z/OS SIEM agent), other z/OS mainframe management software, and even a thin-client, browser-based 3270 Terminal Emulation solution, all highlighted by forward-thinking, feature-rich product development and award-winning SDS 24/7 Support.
---
session at SHARE Sacramento: An Enterprises' Experience Utilizing ConicIT…
DevOps: User Experience: Monitoring Requirements for the Volatile DEVOPS World
This presentation highlights an Enterprise's use of an automated, expert mainframe performance monitoring system that proactively identifies existing and future mainframe issues through the performance data received from existing z/OS monitors. Then, the collected data is intelligently analyzed, which produces an extremely useful, first-fault warning whenever the expert monitoring system detects anything unexpected or if performance levels are negatively impacted. This automatic "early warning system" has the power to benefit organizations in many ways (including positive surprises), from decreasing costs/expenses to improving the entire process of identifying and fixing z/OS performance-related problems.
The company discussed in this session chose to use the z/OS performance monitoring system that deploys the first machine learning tool that also uses predictive artificial intelligence and analytics. By leveraging this industry-first combination, this solution has the ability to intelligently learn normal system operations, then detect anomalies, and predict future problems, cultivating the most efficient, dependable, and reliable alerts available from all similar z/OS performance monitoring solutions.
You'll also see how this particular business benefited from this system; they also describe their main challenges and issues that lead them to this solution initially and much more valuable information is offered. After implementation, it's reassuring to know that ongoing mainframe performance issues will be solved or easier to solve. No more costly events (z/OS usage peaks, random mainframe behavior, mysterious mishaps, etc.) transpiring on the mainframe without being promptly notified.
---
Previously…
SHARE Providence – August 6-11, 2017
Providence, RI
Our sessions at SHARE Providence…
Ultra-Thin and Ultra-Secure: The Future of 3270 Client Workstations
Presenters: Dean Butler, Patrick Fournier, Franck Lerivrain, Jean-Pierre Vercruysse
In 2016, Fraikin – the European leader in Commercial Vehicle Fleet services – decided to get out of the mainframe client workstation business altogether by replacing the 1,500 Windows PC workstations used to access their mainframe applications with minimalist Chrome-based devices from which desktop and mainframe applications are accessed in the Cloud. Besides meeting its ambitious multimedia enabling and cost savings objectives, this Enterprise-wide Virtual Device Infrastructure (VDI) initiative resulted in the design of an ultra-thin and ultra-secure TE 3270 client workstation – one with drastically reduced and simplified support requirements, and with unparalleled mobility and flexibility. Come and see the future of 3270 TE client workstations.
Read the Fraikin Case Study.
Securing the Access to Host Assets From 3270 TE Clients
Presenter: Patrick Fournier
In the beginning, 3270 terminals were wired directly into CICS applications through SNA networks: expensive and not too flexible, but simple and more importantly SECURE. Today, 3270 TE solutions rely on Internet connections and distributed applets or browser plugins. SNA network costs have been replaced – oftentimes exceeded – by client support costs. Those solutions are significantly more complex and LESS SECURE than the SNA networks they replaced. The host has essentially lost control of access to its own resources.
This presentation will introduce a different type of 3270 TE solution. One that brings back the simple centralized architecture of early years, to keep the control of access to host resources squarely on the host where it belongs. One that relies on standard web browsers rather than distributed applets or plugins, to eliminate the need to support distributed solution components, and more importantly to ELIMINATE THE SECURITY EXPOSURE created by distributed applets and plugins.
---
Previously…
SHARE San Jose – March 5-10, 2017
San Jose, CA
Upcoming Webinar:
The Future of 3270 Terminal Emulation: The Tale of Two Architectures
Wednesday, April 11, 2018 at 1:00PM CDT
Watch this Virtel® Web Access webinar: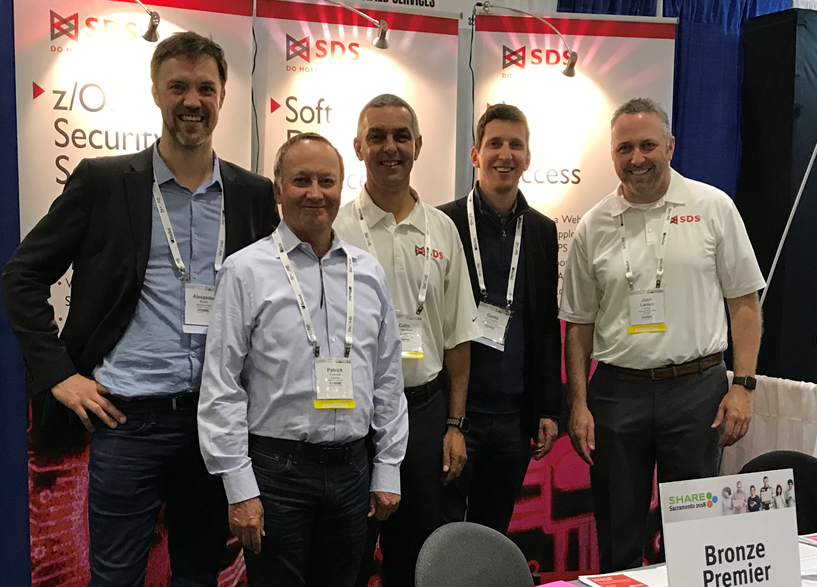 At SHARE Sacramento 2018: The SDS Team with our friends from SysperTec.
---
Winners…
Thanks for visiting SDS
Thanks for visiting the SDS booth at SHARE Providence 2017
Cameron Seay of North Carolina A&T University won the Passport prize of $200 Amazon.com gift card.
Thanks for visiting the SDS booth at SHARE San Jose 2017
Bill Skeldum of FirstBank won the Booth Drawing of $100 Amazon.com gift card.
Herbert Voskuil of Atos won the Passport prize of $200 Amazon.com gift card.
We offer individualized product demonstrations by request. Your company can also try SDS software on your system for 30 days, free of charge.